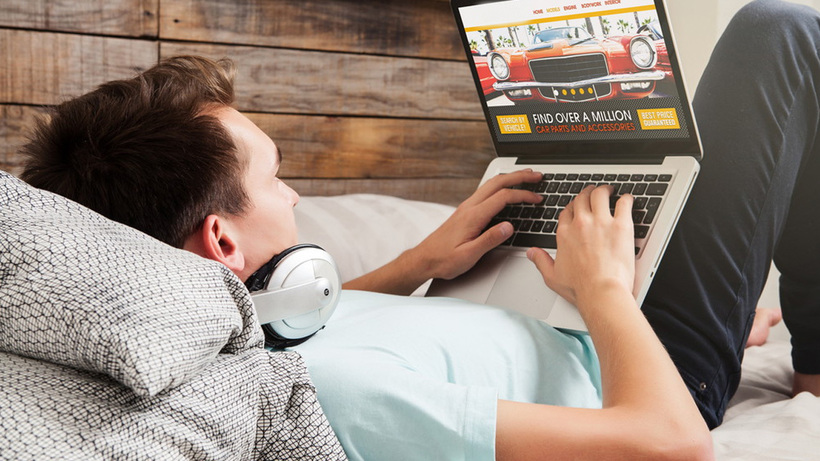 The days of an auto buyer walking onto a car lot, stating that he or she is in the market for a car and being pitched one or several vehicles are quickly fading away. Plenty of customers create digital versions of their desired make and model through online with vehicle-building tools prior to stepping foot on the dealership's property. Some customers are even buying cars on the web rather than in-person. To say the internet has changed the vehicle-buying process would be an understatement.
A Streamlined Buying Experience
Auto dealerships are streamlining the vehicle-buying experience to gain a competitive advantage. A streamlined process that makes the vehicle search and purchase processes efficient and more affordable benefit the customer as well as the dealership. Auto-seekers are now researching the nuances of vehicles on the web. They are also applying for automobile loans online. It is quite common for car-buyers to figure out the make, model and options of the vehicle they desire from the comfort of home. Many are pre-approved for financing in mere minutes over the web. They then visit the car dealership to finalize the deal. Dealers have embraced this technological revolution as it facilitates the selling of vehicles and also eliminates the number of people necessary to employ on-site. Instead of budgeting overhead for a massive sales and finance team, a large chunk of those funds have been redirected to website optimization including functionality on mobile devices like smartphones and tablets.
Instant Access for Buyers and Dealers
Auto dealerships are now capable of adjusting their inventory in real-time. As soon as a vehicle is sold, the inventory count on the dealer's website can be adjusted. Pre-approval for an auto loan takes surprisingly little time. Auto sales teams enjoy instant remote access to enterprise systems. These tech improvements have eliminated plenty of paperwork, greatly reducing the amount of time buyers and sellers have to invest in the details of the transaction. The auto-buying process has quickly become hassle-free and remarkably efficient. The sales battle ground has clearly moved to the web. So make sure your website and social media educate, persuade and provide updated information without delay.
Purchasing in a Remote Manner
Some daring customers are taking tech to the limit by purchasing automobiles online. It is now possible for auto dealers to sell vehicles over the web, approve customers for financing and subsequently deliver the purchased vehicle right to the buyer's door. Though most mainstream dealers do not offer such a seemingly futuristic service, it certainly exists. Remote purchasing will likely become even more popular as technology continues to improve. It is now possible to create realistic simulations of the driving experience in virtual reality. Customers who take a vehicle for a virtual test spin won't be as hesitant to purchase an automobile in a remote manner.
Stay tuned as remote buying following virtual reality test drives just might spill into the mainstream in the coming years. One way to combat remote purchasing is to use your website and social media to tout the benefits of in-person test drives. Offer cordial and educational experiences at the dealership and customers will understand the value of seeing a vehicle in-person. Alternatively, your team can attempt to implement VR test drives and/or remote purchasing.
A Reduced Reliance on Emotional Decisions
It was once said that car-buying is an emotional decision. People would take a trip on out to the dealership, fall in love with the look of a certain vehicle, take it for a test spin and provide the down payment on-the-spot. The emergence of the web and is numerous online auto-buying and building tools has made the process less emotional and more research-based. Car-buying is much more transactional in nature these days. It is all about learning the idiosyncrasies of available vehicles, comparing them to one another with online tools and uncovering information through the web's treasure trove of data.
The democratization of information has reduced the importance of auto salesmen. It can be argued that the customer's experience with the auto dealer's website has quickly become more important than his experience on the lot. Refocusing your sales efforts through your online channels will pay big dividends.
---
Author – Marcin Migdal, ContributorEntrepreneur, Marketing Director ( LOANS.cars / The Logic Box )
Courtesy of HuffPost