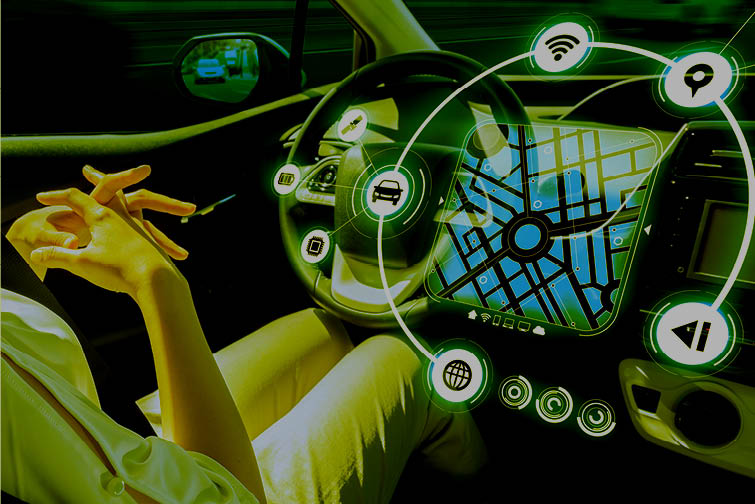 Over the course of 2017, that's how many driven miles Nexar will track worldwide—and it'll only grow from there as the years progress. To put that into context, think about Google's index of any and all web-related searches.
"We can end up indexing the real world, structuring the real world the same way Google structures the web," says Bruno Fernandez-Ruiz, co-founder and CTO of Nexar.
It's an insane level of data to collect from drivers as the company continues to build vehicle-to-vehicle (V2V) networks around the globe. For Nexar to prevent road collisions and enable autonomous mobility, all it requires from drivers is the simple download of an app.
And Nexar's technology is no joke; the company has boasted a 24 percent reduction in collisions since its inception. The network, which is now established in New York City, San Francisco and Las Vegas, uses dashcams and cellular technology to provide real-time alerts to drivers that prevent vehicle, cyclist and pedestrian collisions.
But now Nexar is upgrading after partnering with the Nevada Center for Advanced Mobility to form the first statewide vehicle-to-vehicle (V2V) network in the U.S. The partnership will maximize the benefits of Nexar's existing network by increasing the number of users on Nevada roads using telematics technology and providing the state live-mapping capabilities through its recently launched CityStream data platform.
In other words: The connected car market is about to explode, and every single major OEM will be sharing its data on the same network. And Matt Dewalt says that, as a shop owner, if you want to compete with dealerships and MSOs, you need to take advantage of that real-time information provided by automakers.
"It's definitely going to be happening soon," says the owner of Scott's Collision Centers in Stroudsburg, Pa. "That's why I'm banking heavily on OE certifications."
Nexar is only a small part of a gigantic, constantly evolving ecosystem where drivers and their cars are connecting with a multitude of vehicle services—including collision repair. And as that market grows and OEM data becomes more accessible, the better positioned Dewalt's shop will be to repair vehicles equipped with advanced technology.
And once you understand the connected car landscape and the opportunities available to your shop, your team can be in the same position.
The Foundation
When buying a smartphone, you probably care very little bit about aesthetics. Ultimately, when you decide on the phone you want to purchase, it's not about looks—it's about functionality.
"The main factor for the purchase is, 'What kinds of apps can you run on this?'" says Jürgen Mayntz, founder of the German company High Mobility. "This is what Microsoft fears. They don't make a big enough ecosystem to interest people to their smartphones."
And Mayntz's connection to automobiles, in this case?
"If a company like VW, which sells millions of these cars, says, 'No, I'm sorry, we don't offer the apps you want for this vehicle,' then this becomes a deciding factor for the customer," he continues. "All the OEMs understand this. The need is there, so these apps are made by third parties."
Unlike the smartphone world, app developers have had difficulty building apps for vehicles for years. While the process should ideally take three weeks, Jürgen Mayntz says it usually takes up to six months for a third-party developer to create a vehicle app. Even developing an app that simply opens the trunk of your car becomes a painstakingly slow process, because you would have to build it several different ways according to each individual OEM's application programming interface (API).
But fixing that problem is how High Mobility won Frost & Sullivan's 2017 award for "Enabling Technology Leadership." The company developed a generic API that any app developer can access, meaning if they make the app once, it can be easily duplicated for every vehicle's computerized dashboard. Because of that, telematics technology will be easily integratable into vehicle dash cams and become an everyday app any driver can utilize.
Which brings us to the collision repair industry.
The Certification
In July, Assured Performance Network, the largest certified collision repair network in North America, established "OEM Certification 2.0—The CRP Model," which was designed to address many of the challenges and needs of the industry as the world reaches the next frontier in automotive technology and collision repair.
And the key to it all? The program addresses multiple critical elements, including the customer referral from auto manufacturers.
Scott Biggs, CEO and founder of Assured Performance Network, works closely with all of the major OEMs in the U.S. to not only track updates on OEM procedures, but also understand what they want from collision repair shops. He views OEM certifications as an essential component of the modern auto body repair shop, as it assures a safe, automaker-tested-and-approved repair and helps a shop stand out to customers in a sea of non-certified shops.
And as vehicle technology advances and becomes more complicated for the average technician to handle, the importance of obtaining that certification will only increase.
"With all the technology coming out over the next 24 months, [collision repair shops have] even great potential to get richer going forward," Biggs says. "All of [the OEM data] will be available through the database and infrastructure we've built."
As technology like High Mobility's software allow OEMs to have more control over their vehicle data and makes it easier for them to share information with outside parties, OEMs are, in turn, investing heavily in their ability to connect with one of their most crucial partners: auto body shops.
Mostly because, as Biggs says, dealerships cannot handle all of the collision repair work available in the market.
"Independents repair over 80 percent of the vehicles out there," he says. "Independents buy over 80 percent of the wholesale parts. The OE network isn't even close to being large enough to handle volume of collision repair that exists today.
"The key is [independents] all have to be certified. They all have to meet the same requirements. They have to have the capability to repair advanced vehicles safely. There's no compromise anymore."
One particular piece of technology that is really fueling OEM Certification 2.0, Biggs says? Telematics.
The Connection
Telematics is a technology that grants access to vehicle data at any time. And in a collision repair shop's case, that means being alerted the moment a vehicle gets into a crash, and immediately having the information needed to plan the repair.
And this isn't just some futuristic idea—drivers are currently fully on board. The number of subscribers to onboard diagnostics aftermarket telematics solutions is expected to reach 117 million in 2019, according to technology market intelligence firm ABI Research. Because of that, there will be a lot more notification possibilities when crashes occur. Even as advanced driver–assist systems (ADAS) reduce the crash rate, telematics will give shops utilizing OEM partnerships the advantage of getting that work.
Parker Swift realized this on the maintenance side, which has allowed his company, Mechanic Advisor, a prominent third-party telematics enabler, to thrive in the automotive repair industry.
Similar to many telematics entities like Mechanic Advisor, Swift's company provides a dongle hookup for a vehicle's OBD-II port, which allows auto repair shops to directly connect with drivers, detect trouble codes and utilize vehicle information to determine if repairs and service are needed. The shop can then follow up with drivers and arrange appointments.
And, as OEM data becomes more readily available and accessible, Swift says Mechanic Advisor will try to replicate its success on the collision repair side, creating the same situation for body shops. Telematics will begin to drift away from the traditional dongle hookup and become part of the computers that will very soon house computerized ADAS systems.
"One reason we haven't done that yet is insurance companies play a large role in the process," Swift says. "So, when you have an accident, you first phone call is not the body shop, but insurance."
As more companies like Mechanic Advisor get into the telematics arena, the battle for that vehicle data in the event of a crash will become more contentious between shops (who can utilize telematics technology like Swift's) and insurance companies, who are looking to form partnerships with OEMs as vehicles become more and more autonomous.
That's why, as Biggs would argue, any connection you can set up between yourself and drivers right now is crucial. In fact, the potential at the moment is so huge that the Advanced Technology and Diagnostic Repair Forum thought it warranted a panel discussion.
The Opportunity
The closing panel at that event, which took place in July, covered the importance of pre- and post-repair scanning as vehicle technology continues to advance. Sitting on that panel were representatives from major MSOs (Gerber Collision & Glass and LaMettry's Auto Body in metropolitan Minneapolis), insurance companies (State Farm and Allstate) and—last, but not least—the owner of a small independent Philadelphia network, Matt Dewalt.
Dewalt had a lot to say about improving accessibility to OE repair information—which, at this point, he's well acquainted with because his shops (Scott's Collision Centers) are certified in Honda, Ford and Nissan, to name a few. While he's well aware of the struggles shops face in obtaining that data and the mounting costs OEM certifications present, he's also been able to thrive off those certifications and is ready for the next step of vehicle connectivity.
"My dream is that when I go in to write an estimate, something pops up and says, 'You need to do these steps when you R&I a door,'" Dewalt says. "It's all automated in our estimating software.
"It'll take time to get there—but when we do, it'll be huge."
So, while Dewalt has been able to secure repair work from two hours outside his market because he is the lone certified shop in the area, connected cars have not yet reached a pinnacle that will allow his shop to practice on-demand scheduling every time a crash in his region occurs.
But, honestly, we're not that far off from that sort of instantaneous access to OEM data, Bruno Fernandez-Ruiz states. One of the most exciting parts of Nexar's V2V networks, he says, is its ability to instantly generate 7–8-page collision reports in the case of an accident.
"We use the information we gather from AI in an instance of a collision," he says. "And we use the camera footage, as well as the sensor fusion, so the accelerator, the GPS, and the magnetometer that are built into the smartphone to automatically create a collision report that has charts and measures what happens millisecond by millisecond. It removes a lot of the uncertainty, a lot of the claim investigation."
The ability to access that kind of collision report moments after an accident would eliminate one of the biggest issues dividing the collision repair shops and insurance companies sitting on Dewalt's panel: the importance of scanning and following OEM procedures. As someone who has invested thousands upon thousands of dollars in getting ahead of the vehicle technology curve by investing in OEM certifications, Dewalt is ready to grasp the connection Nexar offers with its V2V network—which Fernandez-Ruiz says, in due time, will become a nationwide network.
Because accessibility to OEM information is improving as the connected car market grows, Dewalt says the average independent shops' heyday is right around the corner. And, as someone who is part of Mike Anderson's Axalta Business Council 1 and spoke to automaker representatives at a recent meeting, he was able to confirm this is currently top of mind for OEMs.
"They said that's the direction they're going," Dewalt says of telematics. "As soon as that accident happens, they know the severity of it and can direct you where to go to get it fixed properly."