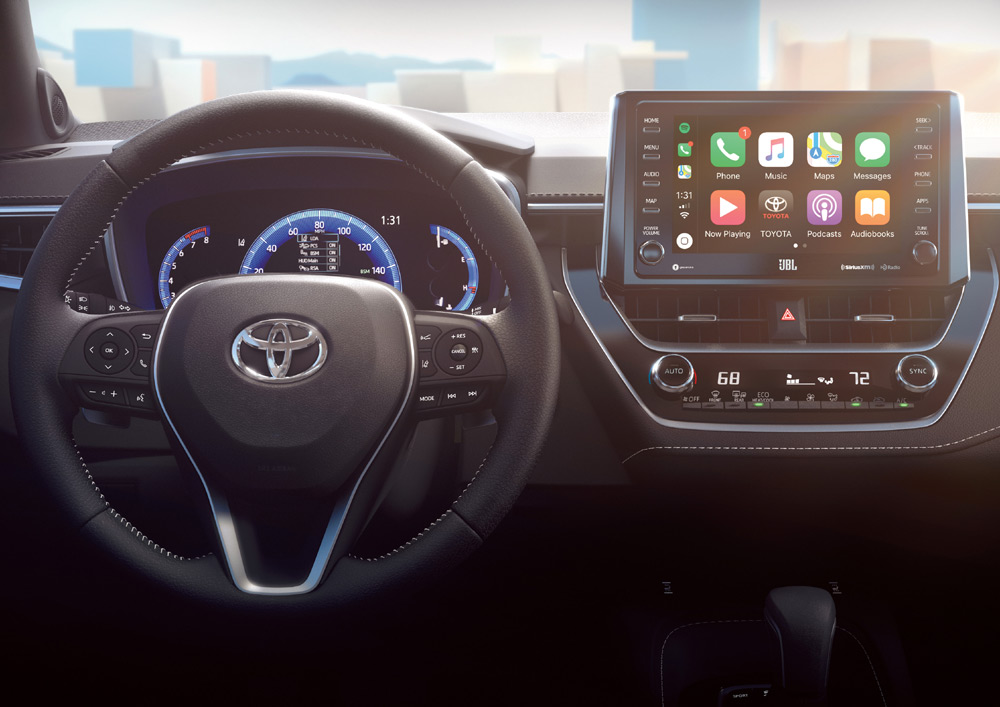 Cars are getting more connected, such as this Toyota Corolla, with some vehicles able to share information about driving conditions like weather, speed, sudden braking, accidents and more.
If you haven't shopped for a new vehicle lately — even if you have — get ready for something completely different coming in automotive technology.
Your new ride could come equipped with predictive analytics, Wi-Fi, or an interchangeable outer body that can be popped off in one piece and replaced after a crash. You might even be able to sign up to drive one car for a time and then swap it for another.
Much of the innovative technology offers convenience to the driver, although some of it might make you feel a bit like Big Brother is watching. "These trends will transform how industry players respond to changing consumer behavior, develop partnerships and drive transformational change," says Ivan Lawler, director of operations with the Russ Darrow Group in Waukesha.
Connected cars
A "connected car" is equipped with internet access, and usually also with a wireless local area network that allows the car to share internet access with other devices inside and outside the vehicle. Connected cars will be able to share information about driving conditions like weather, speed, sudden braking, accidents and more. "It's the beginning of what is called vehicle-to-vehicle or V2V communication, a Wi-Fi-like technology that will eventually be standard on every new car," Lawler says.
In fact, if you have an iPhone, you might not have to wait. "Apple CarPlay takes the things you want to do with your iPhone while driving and puts them right on your car's built-in display screen. Everything on your phone pops up on your touch screen," Lawler says. You can get directions, make calls, send and receive messages, and listen to music, all in a way that allows you to stay focused on the road.
Blockchain
The technology behind the digital currency bitcoin is drifting over to the auto industry in the form of vehicle sharing. The concept is not new, but the use of blockchain technology to record vehicle ownership, log the use of vehicles and share insurance costs is new. It could enable shared use or ownership of fleets of vehicles, such as a group of cars parked in a high-rise that residents could use as needed. "In the automotive business, blockchain technology can create a trusted, accurate protocol for this supply chain," Lawler says.
Along those lines, some automakers like Cadillac and Porsche are testing vehicle subscription services. BMW has launched a pilot program in Nashville ("Access by BMW") that lets members swap one BMW vehicle for another through a mobile app. For a monthly payment that includes insurance, maintenance and roadside assistance, members get unrestricted access to a select group of BMW vehicles.
Predictive analytics
Collecting data has been one of the primary gamechangers in every industry and that includes car makers. The streams of information generated by connected cars, such as data from sensors, actuators and machines, can be useful in predicting when cars need servicing, parts replacement or other repairs.
"Predictive analytics will also help customers, from less expensive insurance for safe drivers to fewer breakdowns. Plus, with potential problems fixed early, vehicles will last longer," Lawler says.
If the idea of shared data makes you nervous, experts say it is incredibly secure. Because the information is contained in no single, centralized location, it is not susceptible to hacking or altering. "The information will be protected. Some car manufacturers have teams doing research on this, and I believe we'll see it in the next 5 to 8 years," Lawler says.
3D printing, which is used in air travel and medical implants, is also being used in automotive technology. Currently, it helps to create prototypes by Ford and other manufacturers, but in years to come, it might be used to make replacement parts — even an entire outer body. "This could significantly impact the long-standing concept of accident repair," Lawler says.
Who's buying
How attractive are these features likely to be to the car-buying public? "I think when the customer is presented with a number of gadgets and features that can make your family safer, I'm not sure how you don't say that sounds great," says William A. Sepic, president of the Wisconsin Automobile and Truck Dealers Association. "When you get into areas that take control away from the driver, some drivers are receptive to that while others are not. For example, some people love the lane deviation technology, but others don't like having that interference."
Social media enthusiasts will be intrigued by some of these features. "Millennials are very tech savvy, but this could appeal to people of any age," Lawler says.
And price also is a factor. BI Intelligence reports that the average selling price of a connected car is currently $55,000, but that cost will likely decline as more competitors enter the market and the technology gets cheaper.
Car dealers must balance everything to give their customers the highest quality product with the highest level of safety, Sepic says.
"I think the key is the dealer working with the customer to put them in a vehicle that most suits their needs, whether that has minimum or maximum features," he said.
---
Author – By JoAnn Petaschnick – Special to The Freeman
Courtesy of GM Today