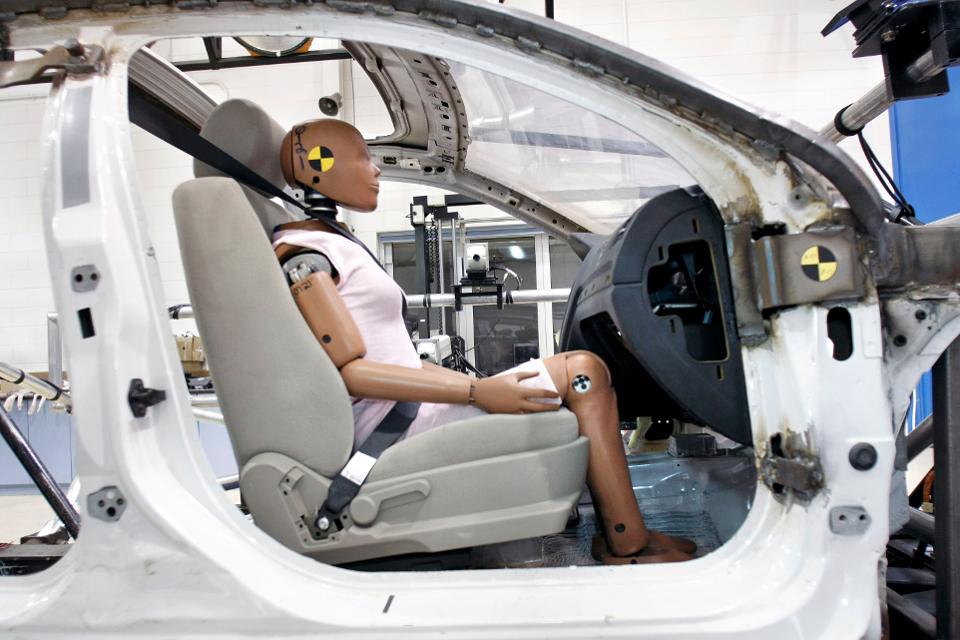 In 2017, over 28 million vehicles were recalled. As eye-popping as that number is, it's actually about half of the 52 million vehicles that were recalled in 2016.
This massive number of recalls was partly due to defective Takata airbags and their inflators. When deployed, some would shoot out metal shrapnel along with the airbag.
If that sounds insane to you, you're not alone. There's clearly something amiss in the auto industry when so many people are being notified of dangerous, potentially deadly, problems with their vehicles each year.
But a blockchain tracking system will help.
Implementing blockchain-based solutions in the automotive supply chain will solve some of the issues around constant recalls, fake products and consumer safety. It won't ensure every part will always work exactly as it should. But it will mitigate the damage when people do have problems with their vehicles.
Here's how:
1. Counterfeit Parts
Counterfeit parts are 
a $45 billion-dollar problem
in the global market. Yet very few manufacturers have adequate end-to-end visibility of parts entering and leaving their supply chain. They might be able to see one or two steps upstream, but for the most part, they don't have visibility beyond their immediate vendor.
And when visibility is lacking in a supply chain, counterfeiters flourish.
Filters, airbags, brake pads and even radiators are all commonly counterfeited parts. This has major safety implications for consumers. Accidents are bound to happen when people drive around with counterfeit brake pads that quickly wear thin or airbags that are more dangerous than a fender bender.
Blockchain can help weed out those counterfeit parts in the supply chain. By registering parts on the blockchain, companies can easily trace their provenance, create immutable record transactions, and track changes in custody. So if a shipment of airbags hasn't been registered and proven authentic on the blockchain, a manufacturer will know the parts are unusable when receiving the inventory. And they won't be installed in vehicles.
Bringing car companies and their suppliers together around one system will increase visibility and eliminate the trust gaps where counterfeit parts are introduced into the supply chain.
2. Recalls
When automotive companies can't pinpoint the exact vehicles that need to be recalled, they have to overcompensate to protect consumers. They alert people with certain makes and models to take their cars in for a fix. And the costs associated with that are enormous. Recalls were a $22 billion expensefor automakers in 2016.
When Toyota had to recall their accelerator pedalsin 2010, they had no way of tracking the pedals upstream. They had received the pedals from suppliers, put them in the vehicles, and watched them roll off the lots. But when the accelerator issues began, they had no way of knowing exactly which cars were affected.
With a blockchain-based system, we'll be able to track and trace those parts from their source, all the way to the individual vehicle.
If a faulty product is coming from one supplier's factory, like Takata's, that problem can be pinpointed in the supply chain. Only cars made with the parts from that factory would need to be recalled. It's the difference between recalling a few thousand 4Runners made between 2010-2012, and every single 4Runner made during that time.
3. Accidents From Defective Parts
As cars become more automated, control of the vehicle will begin to shift from the driver to the car itself. It's already happening. Auto-park features, lane warnings, and automatic braking are just the start.
That means the integrity of the electronics and software inside the car is of the utmost importance. Imagine taking your hands off the wheel while doing 70 mph on a highway. That requires enormous trust.
If society is going to place its trust in this technology, people have to know the sensors and computers in their vehicles are working right—every single time.
Which is why it's so important to eliminate faulty, fake products and create a system to quickly track and trace individual parts. In fact, this is closer than many think. Mobi, a nonprofit organization that aims to make mobility services more efficient and safer by accelerating adoption of emerging technologies, has recently launched out of UC Berkeley. They've formed an alliance with partners such as BMW, GE, Ford and Bosch, sponsors such as Oaken, Accenture, and the Bay Area blockchain for supply chain company Chronicled, and NGOs. (Full disclosure: Chronicled, Inc. is a sponsor of Mobi).
Ultimately, blockchain solutions will allow us to find out where the failures are and quickly alert owners when there's an issue. It will work from both ends by preventing counterfeit parts from entering the supply chain and helping manufacturers respond faster and more effectively to keep consumers safe.
Disclaimer: Any opinions expressed are those of Samantha Radocchia and not those of Chronicled, Inc. This information is for educational purposes and does not constitute financial and/or legal advice.
---
Courtesy of Forbes