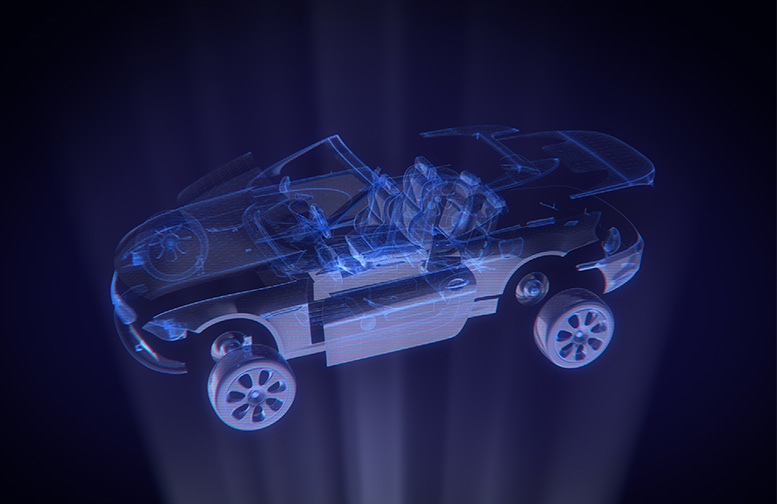 It sounds too good to be true, but Susan Beardslee really wants this idea—this completely attainable idea that could soon become commonplace—to sink in: You can repair cars before they even break.
"If you, as a consumer or a small fleet owner, know ahead of time that a battery or pump is going to fail, you can bring it in to be repaired," says Beardslee, senior analyst for technology market intelligence firm ABI Research.
Now, while that might sound like it strictly applies to automotive repair shops, she wants to stress how this will soon apply to collision repair shops because of "prognostics"—an engineering discipline focused on predicting when a system will no longer perform its function.
And what does prognostics open the door to? Telematics. A system that, ideally, instantly lets you know when vehicle crashes. The number of subscribers to OnBoard Diagnostics aftermarket telematics solutions is expected to reach 117.8 million in 2019, according to an ABI report. The technology has the potential to completely reshape the industry, and OEMs are investing heavily.
Which is why Ford's recent leadership change—with Jim Hackett taking over CEO duties from Mark Fields, who was notably failing to carry Ford into the future of vehicle technology—signals a widespread shift toward telematics in the future. While prognostics have largely been a focus for high–end vehicles, Beardslee sees that quickly shifting to mid– and low–end vehicles within five years.
She spoke with FenderBender to detail what the industry can expect.
How much can telematics benefit the collision repair industry?
There's going to be a lot more notification possibilities with crashes. As we get more into advanced driver–assist systems (ADAS), I think you will have less accidents, but telematics gives the advantage of getting that work.
The cost of repairs is going to be much higher because you have things like cameras and sensors. So when you hit someone's bumper—say a car that doesn't have any ADAS hits a car with ADAS—it's not just going to be about replacing glass and metal. There are all these electronics that connect to the central brain. It becomes a much more complex, expensive repair. So the dollars per repair will go up and hopefully that will be an offset.
Who is at the forefront of normalizing telematic systems on vehicles?
Companies like Verizon, T–Mobile and Sprint have small business telematics solutions. With a lot of these systems, you have the connectivity through the different telematic code providers. The telematics providers are selling devices that hook into the OBD–II port on cars in the neighborhood of $30.
As OEMs upgrade their prognostics, telematics will become more reliable. We really started to see it at the beginning of this year with Daimler Trucks. Now we are seeing other companies, like GM and Cadillac, starting to put in basic prognostics. So, beyond your tire pressure monitor, this would involve operations of the cars and eventually cover a plethora of operational capabilities, like suspension. It can send people to collision repair shops and eventually it'll even help scheduling, which will help the operational efficiency of collision repairs.
In order to do prognostics, you have to enable some of the functional parts of the vehicle, the embedded control units. And by doing that and having the over–the–air capabilities, that can make sure the appropriate parties get that information in a timely manner.
Where is Ford on the prognostics/telematics end?
Ford is behind GM and Tesla on that. If you think about their Smart Mobility division, where Hackett came from, that's only been announced for 14 months. That's not a terribly long time.
Ford is about one generation behind. If you think about a vehicle's design to the start of production, you're talking in the neighborhood of 3–4 years. They're about three years behind in some of these enabling factors, like prognostics, long–range electric vehicles, over–the–air updates and autonomy.
Why is Ford so far behind?
A company like Tesla has such an advantage; they built from the ground up. They can immediately start on mass production of these self–driving cars, over–the–air updates, prognostics. I suspect that they had those capabilities built into the manufacturing lines, because that's a huge capital investment.
So, in order for Ford to do what Daimler has done with trucks and what Chevy has done with the Bolt, they have to re–architect the manufacturer lines. And with the change in leadership, I bet Ford hasn't started on it yet. It starts with the design, which puts them three to four years out, based on the timeline for automotive development.
So, can we expect companies outside of Tesla, Daimler and Chevy to embrace prognostics in the near future?
It will become increasingly common, and it is going to be strongly related to ADAS. Because you're going to need the over–the–air capabilities and the prognostics from the safety perspective. I would say you will see this become more ubiquitous in the next 3–5 years. I think it will move from higher–end vehicles to mid range. You might not see it on a Toyota Corolla, but you won't have to buy a Jaguar to get those kind of features.
---
Author – Travis Bean
Courtesy of fender bender