Digital Customer Service Journey
Tough times call for innovations. Well, in a time when almost every industry is being disrupted at a large scale, the world is witnessing some welcoming strategic implementations. In the automotive industry specifically,
Service Appointment Booking
Digital Appointment Booking for Service, Maintenance & Repair
Features
Get vehicle details from LP number
Select list of services
Book date & time slot with nearest dealer
Get replacement car or wait option
OTP based authentication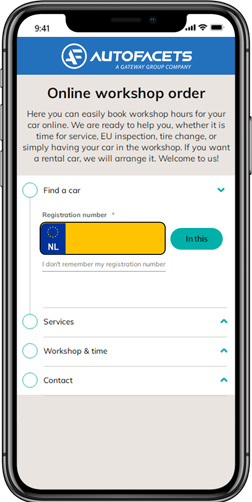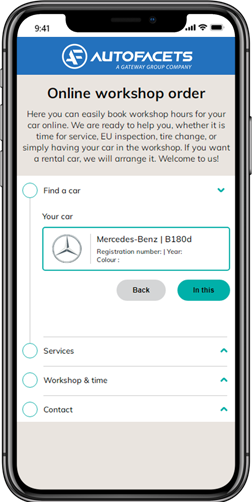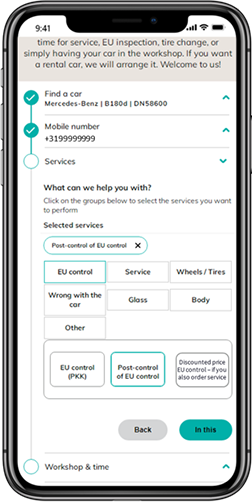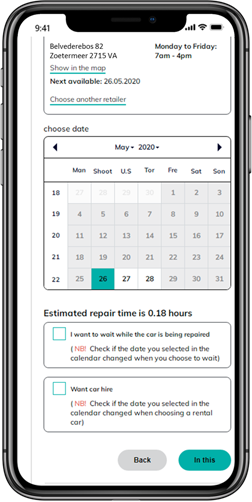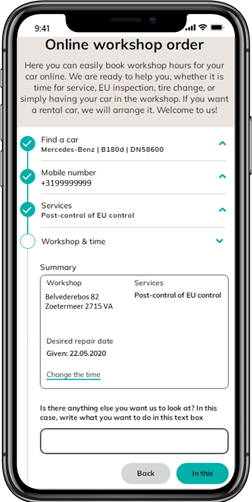 Digital Check-in Link Via SMS
The Digital Check-In helps customer to have a contactless entry and exit at the dealership for a booked service appointment.
Features
Check-in prior to arrival
Pre-filled owner details
User privacy consent
Virtual tour
Service advice & upsell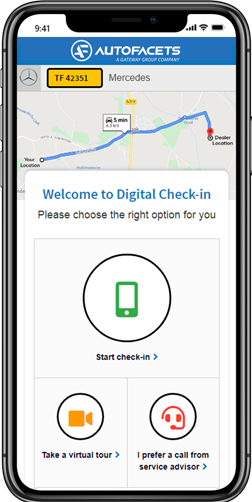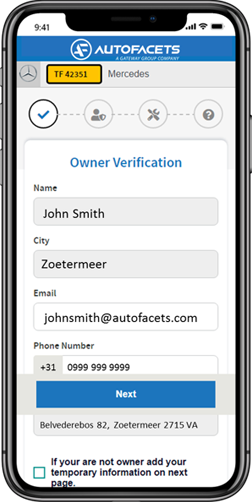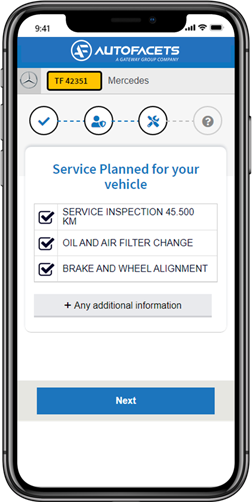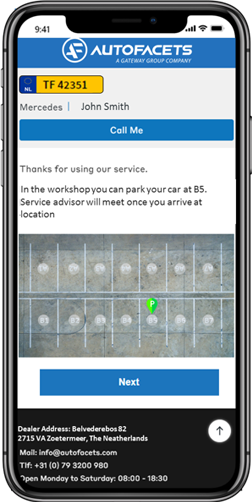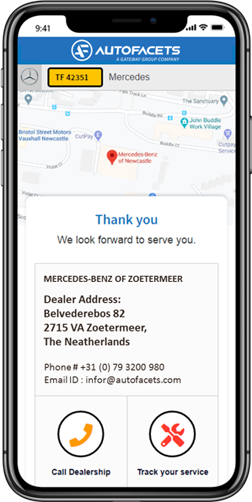 Dashboard to Monitor Daily Check-In & Arrival of Customer
Service Reception enables Admin/Reception to notify Service Advisor to attend the Expected Service Customer.
Features
Alert on customer arrivals for drop/pick up
Notify customer check-in
Send reminders to not checked-in customers
Track cancelled appointments
Benefits

Facilitate Seamless Reception of Customer

Real Time Sync with Customer Activity
Optimizing Queue to Improve Customer's Waiting time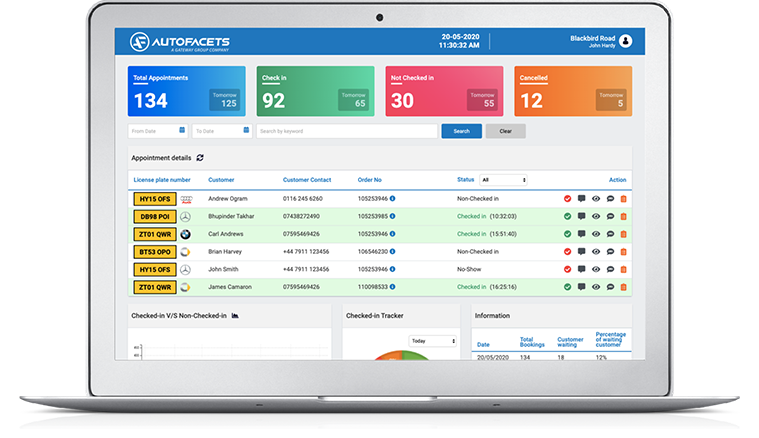 Real Time Status of Vehicle Service
Service Tracker provides real time status of the vehicle service and also facilitates the additional job order approval process along with Digital Signature feature after completion of service.
Features
Notify dealer on arrival for drop/pick up
Track service status
Additional work approval mechanism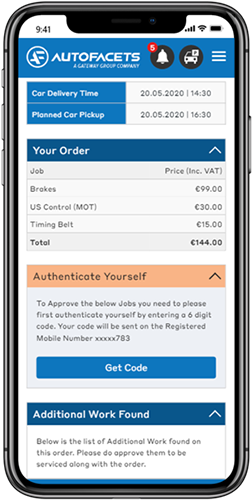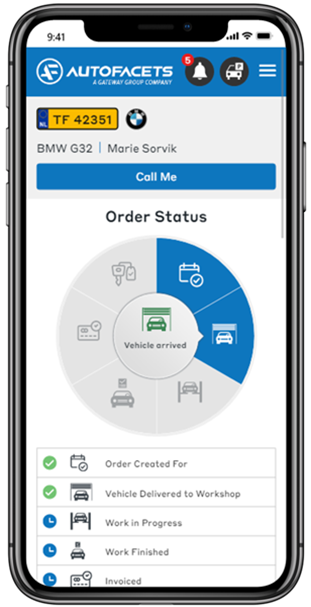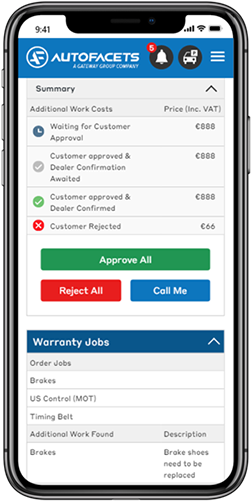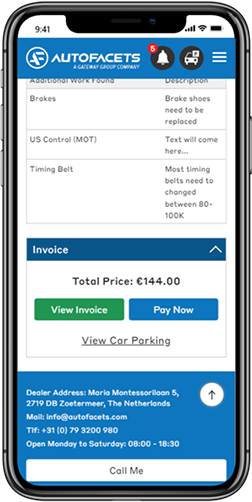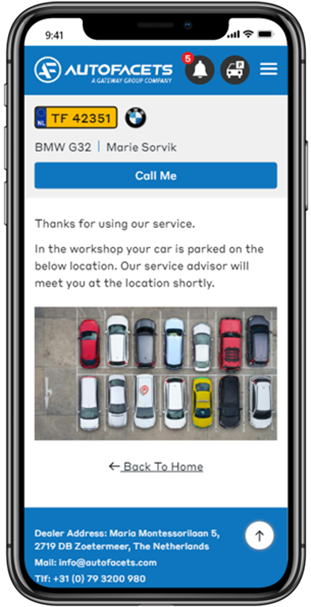 Single Touch Digital Payment Post Service Completion
Simple Online Payment Option for the Customer after the Completion of Service with Single Touch
Features
Driven by leading payment gateways of your region
Secured transaction assurance
Integrated digital signature
Brief summary of transactions
Multi-currency solution
Benefits

One Touch Easy Payment Experience

Leading Payment Providers Covered

Real time Sync with Invoicing Management System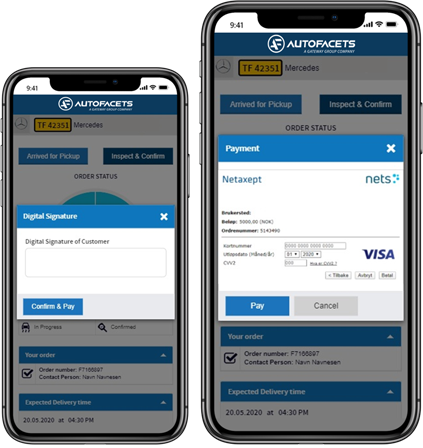 Tool to Engage Customers & get Insightful Feedback
Easy Tool to Collect Feedback from The Customers after the Completion of Service
Features
Clear & specific feedback form
Easy to use survey editor
Advanced reporting & survey interpretation engine
Help management to identify key drivers & metrics
Benefits

Improve Customer Satisfaction

Strategize Customer Retention

Valuable Insights on Customer likes & Dislikes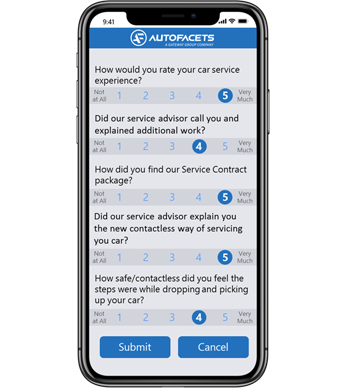 Key Business

Benefits

A complete mobile based aftersales customer journey which eliminate human intervention. Manages all flows right from online booking to serviced car delivery. Adheres strict GDPR norms to safe guard customer personal data, provides hassle free digital payment options and pin point car location at dealer's workshop. Helps dealers to retain customer satisfaction and provide health safety.
Kick-off

Zero Touch Service


Journey Today!
Ready to Deploy Solution tailored to your needs.
Quick Setup
Easy Integrations
Customizable Workflows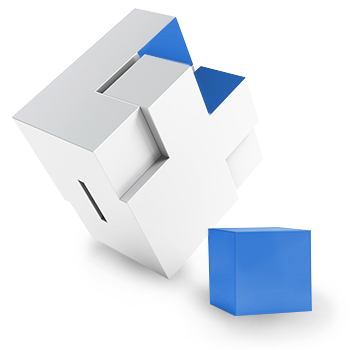 Zero Touch
Service
Tailor-made package for your unique business requirements
APPLICATIONS
ESSENTIAL
PRO
ADVANCED
ONLINE BOOKING
DIGITAL CHECK-IN
SERVICE RECEPTION
SERVICE TRACKER
DIGITAL SIGNATURE & PAYMENT
CUSTOMER SURVEY
Brands Using

Zero Touch Service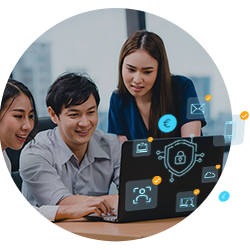 Privacy
We have built our foundation and programming around the norms of protection that allows us to consent to the recent EU GDPR guidelines. This privacy assures end clients and our customers that their information is dealt with in a protected and agreeable manner.
Our suite is modular in nature and has microservices based architecture in its landscape. So, any solution component can be provided as per your need.
It's completely possible. Our development team can quickly assess your requirement and develop the feature within shortest time possible.
Yes. It's entirely in line with Customer Data Privacy norms.
Within 4-5 weeks, AutoFacets can deploy all the components in the suite.
It follows flexible pricing models. While it's readily available in one time fixed price, AutoFacets can also offer it as a service with monthly subscriptions or user-based manner.
You need to provide us the DMS and CRM information, access or open APIs (not mandatory). AF team quickly analyzes the current systems and uses its pre-built connectors to plug Zero Touch on your current landscape.
AutoFacets provides L2 & L3 support after implementation which can be offered in shared services model and also in form of yearly maintenance contract.