OVERVIEW
As the future of the automotive industry becomes connected and autonomous, AutoFacets helps transform automotive segments – automotive retail, independent aftermarket, and mobility ecosystem.
We help automotive businesses take the data-driven approach that empowers them to enhance customer experience, make every aspect of their business efficient and experience business benefits.
After understanding and analyzing your current ecosystem, we help in making it automated, stronger and sustainable. We enable you to achieve your business goals all the while utilizing the new opportunities with offerings such as
Digital Engineering Service

AF-X Platform
Consulting Service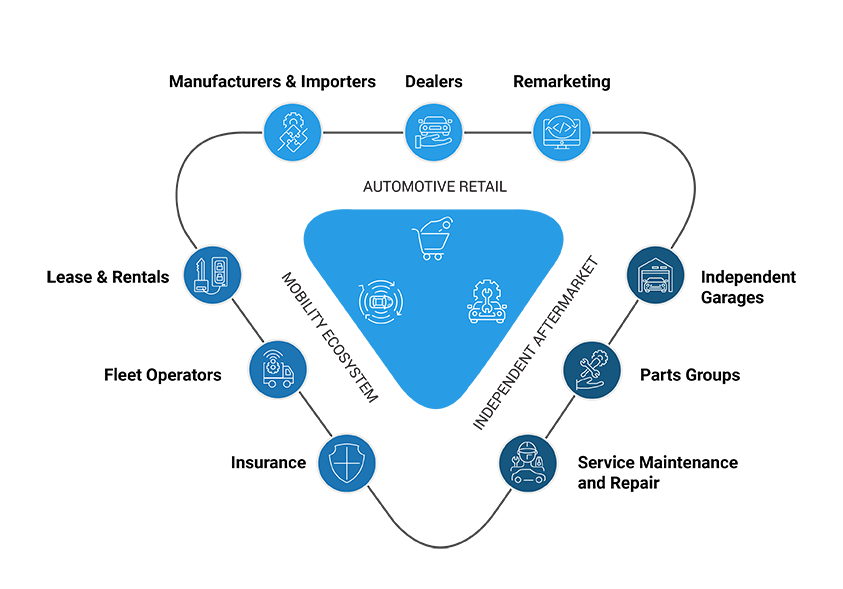 SERVING ACROSS THE AUTOMOTIVE VALUE CHAIN

The entire life-cycle of a car, after it's manufactured, when pushed for selling through dealerships to retailing a used one in the remarketing sector, we cover it all.
Our host of automotive solutions and services deliver the ultimate customer experience.

The automotive independent aftermarket is a complex, robust, highly competitive market. We work with its multi-faceted and diverse segments covering the aftermarket focusing on the nuances which define the competitive advantages for our clients.

Moving towards the future of mobility, gradually vehicles would be autonomous, connected and would run on alternate fuels. AutoFacets is at the helm of bringing indispensable technical advancement in sectors like Lease and Rental, Insurance and Fleet Operations.