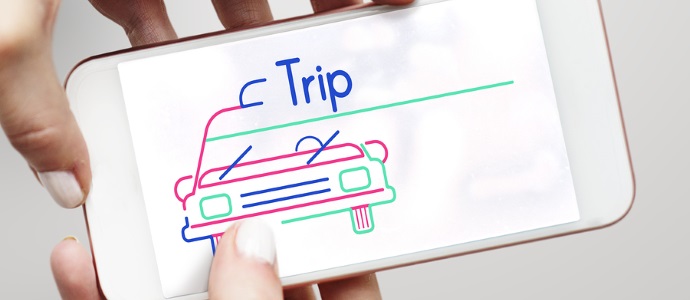 Finding our way around has become the most universal task conducted on smartphones. According to Pew Research, last year 90 percent of smartphone owners in America used their device to get directions, recommendations or other information related to their location.
NB This is a viewpoint by Kalle Marsal, chief marketing officer for Mitek.
It's clear that smartphones and travelers go hand-in-hand, so it is astonishing that the car rental industry, where one of the clearest examples of mobile disruption is currently taking place, is not fully embracing mobile.
There is huge and largely untapped potential for car rental companies in the mobile channel. More travelers than ever are looking to their smartphones when they need a ride. This should be great news for car rental companies, as US revenue for the car rental market increased from $27.1 billion in 2015 to $28.4 billion in 2016 and is expected to grow again this year.
The challenge traditional car rental companies are now facing is that they were slow to innovate while tech-based startups sprang up around them. When users looked on their smartphones for info on renting a car, they were distracted by and introduced to competitors such as Uber and Lyft that allowed them to complete their transaction right there in the mobile channel.
Identifying the potential of mobile
Some car rental companies that are starting to think mobile first are launching smartphone apps that incorporate mobile capture and digital ID verification. The use of mobile capture technology allows a consumer to snap a picture of their driver's license to scan all the personal information on it and have it automatically uploaded into the rental agreement.
Furthermore, digital identity verification capabilities allow the customer to prove their identity, right within in the mobile channel. The cameras on smartphones have come a long way and when combined with powerful computer vision and machine learning, smartphones are now faster at processing data and better at spotting forgeries than the human eye.
Instead of standing in line to have an employee glance at the picture on a driver's license, a mobile identity verification solution can pull all the data from a license and authenticate in real-time that it is a genuine, government issued document.
Additionally, with an automated biometric facial comparison, the user holding the smartphone can match the face on the driver's license to their selfie and the authenticated ID document can be confirmed to belong to the holder. The rental company can now trust that the person attempting to rent their vehicles is who they say they are. And the customer can accomplish all this on their smartphone while waiting at baggage claim.
Connected cars
Companies can also tap into Internet of Things (IoT) and connected car systems for increased convenience. For example, after a customer's identity is verified, the mobile app could also tell them exactly where their car is parked and unlock the doors for them when they arrive. It can even send a signal to have the car flash its lights if the customer is having trouble locating their vehicle.
The digital transformation is taking place in real-time and the rental companies that are investing in the mobile channel are seeing great returns. For example, in 2016 Avis launched a completely re-engineered app to streamline the rental process from reservation to car return, giving the customer more control of the rental experience through their mobile devices.
This was a huge step forward in the industry according to David L. Clarke, global chief experience officer at PricewaterhouseCoopers LLC, who told the Wall Street Journal at the time that Avis' technology put it ahead of its rivals.
The battle between car rental companies and disruptors comes down mainly to a fight for convenience in the eyes of users. Travelers demand mobile options and are changing their behaviors in order to access mobile self-service technology. Now that car rental companies are adopting advanced mobile identity verification technology, the battlefield is level.
There is still more that could be done to bring the entire industry up to speed, and some car rental companies are thinking mobile-first to keep pace with disruptors and race past competitors.
---
NB1: This is a viewpoint by Kalle Marsal, chief marketing officer for Mitek.
Courtesy of Tnooz