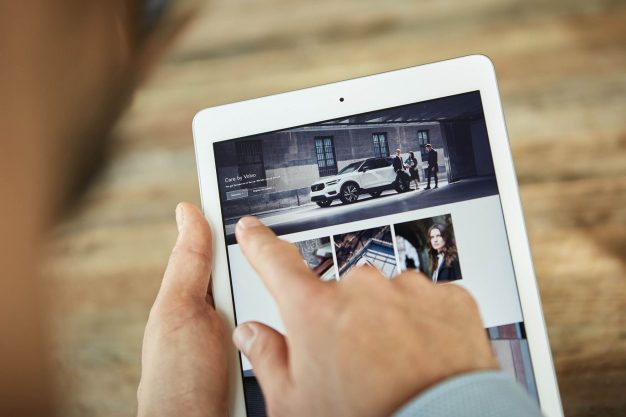 Volvo and other automakers are betting that consumers are ready for a new, more flexible way of owning a car.
Last week during the unveiling of its XC40 sport utility, the Swedish automaker released the initial details about a new ownership option called Care by Volvo. While the payment plan appears similar to a traditional car lease, it may have more in common with popular subscription-based media services and smartphone contracts.
"Our research has shown that many customers are looking for a hassle-free, fixed-rate experience that mirrors the many subscriptions they currently have, such as Netflix or Apple's iPhone [upgrade] program," Jim Nichols, product and technology communications manager at Volvo USA, told Consumer Reports.
Volvo hasn't released details yet on how much the plan will cost, so it's difficult to know whether consumers will embrace the subscription model. But automakers like Volvo believe the demand is there.
"It is a short-term commitment, and you can upgrade the car as early as 12 months into the program," Nichols said. "It covers everything but gas, covering things such as maintenance, insurance, and service."
Additional details about the program—including the cost—will be released in November during the Los Angeles Auto Show, he added.
The early upgrade option could appeal to consumers who want to keep up with the latest technology, says Jake Fisher, director of auto testing at Consumer Reports.
"It reflects the feverish pace of technological advancements we've seen lately in cars," he explains. "It's a way for a car buyer to make sure they have all the latest safety and convenience features."
The subscription model could also represent a shift in how automakers—and car buyers—view the ownership experience, according to Ed Kim, vice president of industry analysis at AutoPacific.
"The appeal of the Care by Volvo lease is its simplicity and transparency," he says. "It is all-inclusive and easy to understand."
Kim cautions, however, that savvy car buyers, particularly young adults on tighter budgets, will be quick to compare this program with more traditional (and potentially less expensive) purchase options.
"While young adults certainly like transparent and all-inclusive pricing plans, they are also price-sensitive by necessity," he says. "The success of Care by Volvo will depend on the overall deal."
"Simplicity can be wonderful," he added. "But many younger consumers will balk at the idea of paying more for simplicity and convenience—if only because by necessity they need to be careful how they spend their money."
Still, Care by Volvo could signal a better alignment between car buying and the incoming wave of self-drive technology, Kim says.
"When autonomous vehicles get here, we can expect that technology to dovetail neatly with the rise of ride-sharing services," he points out. "Starting in urban centers and then spreading out, within a few decades, we are likely to see a significant decrease in personal vehicle purchases and leases as more and more people will be able to rely on autonomous ride-sharing services."
What Others Offer
Volvo isn't the only automaker to develop alternatives to traditional purchase or lease options.
BMW: BMW's Flexible Mobility Program offers owners of the i8 plug-in hybrid sports car or the i3 electric-powered hatchback 14 days of complimentary access to gas- or diesel-powered BMW vehicles per year. The idea is that those models will offer owners a longer range than their electrified cars might get. The program is free to any i3 or i8 owner.
Hyundai: In California only, Hyundai's Ioniq Unlimited+ program offers three flat monthly rates for the three trim levels of the full-electric version of the Ioniq.
Pricing ranges from $275 per month for the Base model to $305 for the Limited and $375 for the Limited Ultimate. The subscriptions last for 36 months, annual mileage is unlimited, and an initial deposit of $2,500 is required. It also includes maintenance for the full three years and charging for up to 50,000 miles over the three years.
There is no traditional lease program for them. California residents who choose to can buy one outright (the starting MSRP is $29,500), and they're eligible for the federal tax credit for electrified vehicles; subscribers are not, Hyundai says.
"We were fascinated by the phone industry," said Brandon Ramirez, senior group manager, product communications for Hyundai Motor America. The goal, he explains, is to make the car-buying process as streamlined as purchasing or upgrading a smartphone. "We wanted to make it very simple for the consumers," Ramirez told CR. "You don't have to do anything, this is your payment, and that's it."
Cadillac: On the pricier side, for a monthly fee of $1,500, BOOK by Cadillac allows participants to schedule time in the brand's current vehicle lineup without any long-term commitment.
The month-to-month program includes concierge service and unlimited mileage. In March a pilot program was launched on a limited scale in New York City. Cadillac plans to expand the program in New York and throughout the U.S.
"Before we open it up to the broader group, we want to show that we can deliver the highest standards to BOOK subscribers when it comes to both the cars themselves and the pickup and delivery service," says a Cadillac spokesman, JL Lavina.
Porsche: In the Atlanta market only, people who join the Porsche Passport subscription program (which is set to start in November 2017) can get flexible access to a wide variety of Porsche cars and SUVs using a mobile app. It's a pricey month-to-month program that offers the ability to change vehicles frequently, unrestricted mileage, and on-demand access for up to 22 different Porsche models, depending on the level shoppers choose.
There are two levels: Launch and Accelerate. Launch includes on-demand access to eight choices, including the 718 Boxster and Cayman S sports cars, and the Macan S and Cayenne SUVs, for a monthly fee of $2,000. Accelerate includes on-demand access to 22 choices including the 911 Carrera S, the Panamera 4S sports sedan, the Macan GTS and Cayenne S E-Hybrid SUVs, in addition to the Launch-level vehicles, for a $3,000 a month. In both plans, that monthly fee includes taxes and registration, insurance, and maintenance, as well as detailing. Shoppers in Atlanta who are interested can apply through the Porsche Passport app available on Apple and Android devices. Membership in either level requires an activation fee of $500, and approval is dependent on a background and credit check, Porsche says.
---
Author – Nick Kurczewski
Courtesy of Consumer Reports