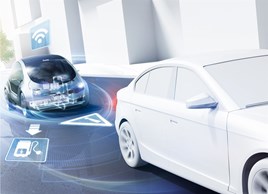 Seventy per cent of respondents to a BVRLA survey feel that manufacturers have an obligation to provide connected vehicle and driver data.
The latest BVRLA Fleet Technology Survey also found that 86% of the organisation's members and fleet managers who responded said they should not have to pay for it.
There were nearly 300 responses to the 2016 survey, which covered data access, control, protection, sharing and cost.
In a separate questionnaire, drivers were asked about their attitudes on sharing data. The results were unveiled at the 2017 BVRLA Fleet Technology Congress.
Seventy-nine per cent of respondents were concerned that vehicle manufacturers would restrict access to telematics data in order to further their own business goals.
Eighty-nine perc ent of them believe that manufacturers should allow them to install third party telematics devices, provided that they meet agreed security standards.
With the introduction of the new General Data Protection Regulation less than a year away, more than 50% of respondents said that their company had a clear strategy regarding its collection and use of driver and vehicle data and understood its responsibilities.
There was a noticeable lack of consistency when BVRLA members and fleet managers were asked for their opinions on who was responsible for controlling, securing and cleansing data.
Gerry Keaney, chief executive of the BVRLA, said: "Connected vehicle data is rapidly becoming the new currency of the fleet sector and will drive many business models in future.
"This is a new, unregulated environment which explains much of the uncertainty and concern about the roles and responsibilities played by different fleet sector participants.
"Our responsibility is clear. The BVRLA will play a lead role in helping the fleet sector work with government and the wider automotive supply chain to ensure that all parties share data in an open, secure and fair way.
"By doing this, we can make sure that businesses and consumers continue to enjoy a competitive choice of suppliers for fleet management, aftermarket and mobility services."
When asked for their views on sharing data, drivers were overwhelmingly happy to do so if it helped to diagnose or prevent faults (95%), automatically alert a breakdown company (93%) or help a manufacturer identify safety and warranty issues with its parts (82%).
They were less comfortable with the idea of sharing data about their driving behaviour and performance (44% 'not comfortable') or selling data about their location, local weather conditions or vehicle performance (36% 'not comfortable').
---
Courtesy of  Fleet News