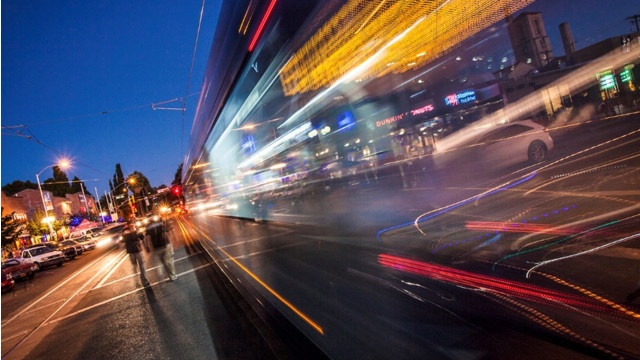 The digitization of transportation is made possible by mass access to smartphones, the proliferation of big data, and emergence of innovative and intelligent approaches to making the entire transport sector be more responsive to customers' real-time needs and wants.
"The key word for transportation in the 21st is 'choice."
– Anthony Foxx, Former U.S. Department of Transportation Secretary of Transportation
The notion of industries being fundamentally altered or outright disrupted by the proliferation of technology aka — digitalization — has become widely accepted as a natural byproduct of our rapidly changing world. For example, the telecommunication sector, media industry and even the banking and hotel sector, have been radically altered over the last several decades. But the most significant disruptions in these industries was not made by similar companies, but rather, by the likes of Netflix, Amazon, Google, Airbnb and Facebook.
Next Up:  Public Transportation
Think about it. Transportation in the United States has not been fundamentally changed since owning a private car became the dominant paradigm. As a result, today's transport systems are an odd collection of disconnected systems of separately financed public transit offerings influenced by political decisions and augmented by an eclectic blend of private providers. The hyper-fragmented nature of America's public transit system results in consumers struggling to make sense of the best available options to meet their unique mobility needs.
With the emergence of 'Mobility as a Service' — or MaaS for short — the opportunity to organize the cluttered and confusing transportation marketplace is a rapidly unfolding possibility. The prospects of integrating a customer's transportation needs with value-added solutions into a single interface is becoming a reality. How? Through the digitization of transportation made possible by mass access to smartphones, the proliferation of big data, and emergence of innovative and intelligent approaches to making the entire transport sector be more responsive to customers' real-time needs and wants.
In effect, MaaS is a catalyst to effectively erode, or better yet, outright eliminate the long-standing boundaries between varied transportation modes so consumers can now readily experience the same flexibility and convenience in public transit that they have become accustomed to experiencing in virtually every other part of their life. Finally, a new era of thought leadership and proactive effort is netting an ecosystem of transportation infrastructure, services, information, and payment capabilities that are transforming how people from all walks of life can efficiently and effortlessly move about our cities.
New Day, New Way
As urban density continues to grow, MaaS provides alternative options to move more people and goods in ways that are faster, cleaner and less expensive. As a recent Deloitte report on the Rise of Mobility as a Service highlights, "By adding more variability into the supply side of transportation, MaaS could transform a relatively inflexible transportation system into one that is significantly more pliable."
And for good reason. After all, consumers have increasingly embraced new mobility options and apps over the last decade. Carsharing has grown 12-fold in the last decade (to 5 million people a year) and is projected to exceed 23 million members globally by 2024. Public bikeshare programs have grown 100-fold since 2004, with more than 1,000 public bikeshare schemes in place today in more than 50 countries. And ride-hailing services have literally exploded in less than a decade, with Uber leading the charge into more than 500 cities in more than 70 countries.
Regardless of what anyone may think of ridesharing giants Uber and Lyft, they in many ways deserve much of the credit for setting this wave of transit disruption into motion. Much like the previously mentioned industry disruptors, Uber and Lyft recognized early on how the needs and expectations of transit users was continuously becoming more confounding and confusing. They realized that the hyper-fragmented transportation marketplace, with its off array of taxis, buses, cars, shuttles, and more, were not leveraging the one catalyst with the greatest chance of fundamentally altering the transit experience … technology. And the result of their applied imagination has forever changed the way we now think of and experience transportation.
Everything-As-A Service
In developed economies, systems are increasingly moving toward "everything-as-a service" thinking. Competitive advantage and increased market share will increasingly shift toward those who provide smart, cost-effective and comprehensive life-cycle solutions. On average, transportation is a consumer's third highest monthly expense. This results in a market structure with huge upside for those industry leaders who can create a compelling, customer-centric transportation value chain — those who can effectively and efficiently integrate the appropriate blend of service offerings and varied transport options with the right infrastructure into an Uber and Lyft-like, on-demand consumer package.
History shows us that the same logic has already been successfully applied in the aviation industry. Now it's time for it to be thoughtful and deliberately applied to the transit industry.
Understandably, incumbent transport operators are beginning to understand that their business models and role in the emergent ecosystem needs to change. Anyone in the transportation business who is paying attention recognizes they must harness technological advances that enable a wider range of choices, leverage different uses of relevant data, and deliver a higher level of responsiveness.
New technologies like those created by Uber and Lyft reveal how traditional transit users are no longer the only consumer in the transport system. Instead, in a MaaS-enabled world, the whole transport experience will be generated with, to, and by users. Current changes in users' expectations, attitudes and behaviors are revealing a shift from asset ownership to service access, meaning consumers are now expecting a level of ease of access, convenience and affordability resulting from being able to do things in a better, smarter way.
A Peak into the Future
As stated earlier, future iterations of MaaS should create an integrated system of mobility that is more pliable than the existing transportation network, where supply is aligned with actual demand and where more choices are provided to enable travelers to get from point A to point B in ways that are easier, faster, cheaper, cleaner, and safer than those currently available. This of course will not happen by accident. It must be intentional.
A key factor in accelerating the adoption and proliferation of MaaS will be comprehensive collaboration. Success in enhancing service, reducing cost and improving the transit experience is directly correlated to getting all appropriate players to work together. Private sector participants might join the movement in search of profits, while government agencies possess a mandate to actively promote the public policy benefits that derive from reduced congestion, higher productivity, better air quality, fewer traffic accidents, and a smaller urban footprint for parking.
The promise of all these positive outcomes will only occur if transit providers and industry professionals collaborate.
The rapid rise of the ride-hailing industry has already demonstrated the catalyzing role of technology in transforming the mobility experience for users. Mobility as a Service promises to do so at scale. Although MaaS might be at a very nascent stage, successful expansion of the concept in Europe and other parts of the world are confirming it is a successful model with incredible promise.
Admittedly, America has been slow to adopt this very progressive and exciting new transit reality. But it is time for that to change. With the right leadership and vision, enabled by the right technology, the promise of MaaS can unfold quickly in a city near you.
This is the first in a five-part series on Mobility-as-a-Service in America by John E. Michel.
Brigadier General (Ret) John E. Michel is a lifelong mobility enthusiast, aviator, business leader and widely sought-after speaker, author, and organizational change expert whose award-winning work has been featured in a wide variety of articles and journals, including the Harvard Business Review, Fast Company, CEO Magazine, Investor's Business Daily, Huffington Post, National Geographic, Joint Forces Quarterly and the Washington Post.
General Michel currently serves as the executive director of Skyworks Global, the world's leading gyronautics company, and is the chairman of the board for DemandTrans Solutions, a leading Mobility-on-Demand Transportation technology company. He is also a staunch advocate for our nation's veterans.  
He can be reached via email or phone, at 847.256.8866 Ext.2.
---
Courtesy of Mass Transit