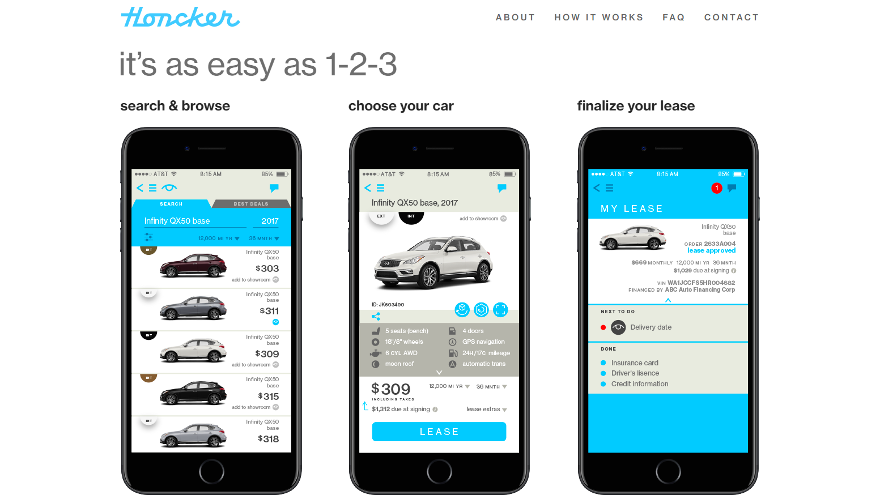 CARY, N.C.  – 
Amid changing car ownership models, autonomous vehicles, digital retailing and other innovations, there's another area of automotive that's perhaps ripe for disruption: the leasing process.
Including, but not limited to, the used-car side of that business.
Fair, for instance, is an app that provides used-car leasing to consumers on a flexible basis, and launched last month in the Apple App Store.
Fair president and co-founder Georg Bauer, along with co-founder Scott Painter, found pre-owned leasing to be an underserved market.
"Thirty-eight million used vehicles change ownership annually in this country. And most of these cars are financed, on average, with 60-month loans," Bauer said in a September phone interview.
"I mean, honestly, how boring is that from a dealer and a consumer perspective?" he said. "Scott and I felt this space needs some innovation badly there, and that's what Fair is all about."
Some, like Flexdrive and Clutch Technologies, are geared more toward the subscription model versus a lease, per se, but they arguably offer an alternative to would-be lessees.
Another innovator to emerge in the leasing space in recent months is Honcker, an app that connects dealers and potential new-car lessees through an online marketplace.
Honcker took the often complicated process of shopping around for a lease and "distilled it down into a couple of swipes on an app," founder Nathan Hecht said in a phone interview.
Honcker launched in the App Store  nine months ago, with the first six months being a beta phase
Initially offered in New York/Tri-State area and the Los Angeles Basin, it has since added test markets in Florida, Philadelphia and San Francisco.
Hecht said two of the top 10 dealer groups are on board along with a mix of smaller, regional groups.
There are typically 35,000 vehicles available through the dealers utilizing Honcker, who represent 20 different brands.
So, what has led to this groundswell of interest in alternative leasing?
"It's a combination of a few different things, but the first thing I'd highlight is time," Hecht said. "For the first time in the automotive industry, there's actually innovation happening. And innovation on many different levels. It starts with the vehicle itself: self-driving cars, electric vehicles and so on. And now it's starting to trickle down all the way through the entire auto experience.
"So once there's innovation, it attracts capital. Once capital is available, the entrepreneurs sort of start to breathe. And the result is that there's a lot of very interesting things going on. And I think it's still very early days and there's huge opportunity," he said.
As for Honcker, its focus is on the consumer experience. Hecht also believes dealerships are likely to stick around "in some form or another"
"And we look at ourselves as an extension of the dealership," he said. "We're not redesigning the lease, per se. So it's still that 24-, 36-, 48-month term."
But, nonetheless, a different take on the leasing process.
Scott Hall, executive vice president of Swaplalease.com, said these types of platforms are emerging amid two key market dynamics: One, new-car sales have been strong in recent years, despite a modest dip in 2017.
Two, leasing's share of that new-car market has never been higher than current times.
"Again, we might be down slightly (this year) in terms of lease penetration," Hall said, "But when you end the year where almost one in three vehicles is leased, that's —  in my opinion — reached the tipping point in the market.
"That's a significant number of vehicles out there on the road," he said. "And as a result, I think that's giving some more fuel for these disruptors and different leasing platforms … to actually have a marketplace to play in and be able to make some money while they're at it, hopefully."
As a lease transfer marketplace, Swapalease itself has been a leasing alternative, although its history dates back nearly 20 years.
And leasing has come a long way since his company's inception. These days, the challenge is less about explaining consumers about leasing itself, but educating them on what lease transfers and assumptions entail, Hall said.
"People are still to this day somewhat unclear on how leasing works and how the calculations work, and what have you.  But more often than not, people are at least familiar with car leasing," Hall said. "They may even know a little bit of the terminology. And even though they may not be an expert at it, again they have some familiarity.
"One of the biggest problems we ran into when we started was, that wasn't the case. Leasing was still kind of a black box-type mentality, it was kind of mysterious. And so we not only had to teach people about leasing in many cases, then we had to teach them on the subset of lease transferring, as well, and help them understand how it works, what to expect and how to do it."
---
Author – Joe Overby
Courtesy of Automotive Remarketing